It's not just about punching in and out anymore.
In the world of HR, attendance tracking is a basic activity and it is core to almost every other thing you do. Whether it be performance appraisals, payroll, reporting or leave management, you need the attendance data of your employees.
However, attendance tracking is not just keeping track of who came and who did not. HR managers and HR teams are now identified for the true heroes they are in keeping the employees at the top of their game. Like the old saying goes, with great opportunity comes great responsibility, HR teams now need to go above and beyond to help the organization thrive in these demanding periods.
This is where OrangeHRM and it's latest Attendance Management module comes in handy for all HR teams out there.
Attendance Management 2.0
For some of you, attendance management could mean something different to time tracking. But have you thought about how easy it is going to be if you have all of this information in one single place? OrangeHRM's latest Attendance Management module allows you to see an employee's attendance details for a specific time period on a daily basis with time tracking information for each of those days in a single click. In the same sheet, you also can view a summary of the total hours worked categorized into regular hours, over-time and double time.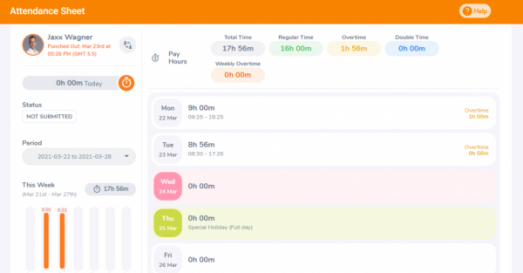 Mapping Pay Policies to Employee Attendance
Different employees in different locations or teams could have different pay policies to one another. Sometimes, even employees in the same department of the same location could have different pay policies. In such instances, the part where it gets tricky is when these pay policies are based on the time worked by the employees. Imagine how hectic it would be to map all of that to all employees in your organization?
The new OrangeHRM Attendance module allows you to map these policies to locations, departments or even individual employees based on the total hours worked which will be captured in the Attendance Sheet mentioned above. You can also simply extract a report with the total pay hours for your employees and make sure your employees are paid for their contributions in a timely manner keeping the spirits high.
Other Benefits
None of the above features are going to help you if you have to approve or reject attendance sheets of your employees one after the other in this digital era. With OrangeHRM, you can simply bulk approve/reject sheets saving you loads of time. Later on, if you want to track changes made to a sheet, all you need to do is check out the Action Log for a history of all changes done.
That's not all, you can also keep track of attendance updates by setting-up email notifications for submissions, approvals and rejections while being able to view the submitted sheets pending approval in your task list of the system dashboard at a glance.
Get to know more about the Attendance Module and everything else OrangeHRM offers for better HR management by signing up for a 30 minute FREE demo here..