Appreciate and recognize your employees when they deserve it!
According to a recent poll conducted by Tjinsite, a division of TimeJobs.com, it has been found that 35% of employees feel that lack of appreciation and recognition at the workplace is a critical factor that decreases their productivity levels over time. Another study conducted by the Harvard Medical School has also identified that employees who were appreciated showed a 50% higher productivity level than employees who were not appreciated. This was researched between two groups of employees where one group was appreciated for their effort before the task and the other was not mentioned anything. Hence, it is clear that there is a direct relationship between appreciation and employee productivity at the workplace. So, if you are in a company where appreciation is not built into the core culture of the organization, it is high time that you rethink that culture in order to gain maximum engagement from the employees, retain them, and most importantly to keep them happy.
On the other hand, even if you are a CEO or a manager, or a supervisor who is already following these good practices at the workplace, you are most likely finding it hard to show appreciation to your employees in a way that is felt to be enjoyed by them due to remote working arrangements of the pandemic. During the pre-pandemic years, you were able to simply organize a team meeting and call out the high-performing employees in front of the colleagues, put up a small party at your office or even go out for a meal to celebrate these moments. However, that's unfortunately not on the table right now.
To make things even worse, this is also a time that some of your employees need to feel connected and appreciated more than ever with the mental struggles of feeling lonely due to the pandemic travel restrictions and the stress associated with the virus itself.
The OrangeHRM Solution
Virtual is the new normal. Anything and everything we do right now is done online. The OrangeHRM HR management software which facilitates many HR functions during remote work now provides the ability to appreciate and recognize any employee any time you want. And the best part about it is that you will receive so much more visibility for your employees' efforts from other colleagues than the pre-pandemic times which would usually include a smaller group of colleagues, maybe your immediate team or the employees in your department during these celebrations. However, with OrangeHRM now you can shout out to the entire company about the achievements of your employees in just a matter of few clicks.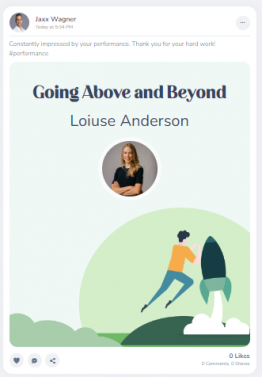 Orange Buzz is an internal social media platform that comes along with the OrangeHRM software so your employees can share their personal updates with their colleagues easily. Further, it also functions as a platform to have discussions on anything and everything that you need to share with your colleagues.
Adding on to these features, the Orange Buzz will soon allow you to give Kudos to your colleagues and share them on the Orange Buzz feed so that all your employees see the great work your colleague has done whenever they log in to check out the latest updates.
This feature also allows you to give Kudos for multiple occasions such as going above and beyond, for being an inspirational leader, for being a great team player, for making work fun, for thinking outside the box, and many more.

Learn more about OrangeHRM Kudos and all other features offered by OrangeHRM for efficient HR management by signing up for a FREE demo here.