A place for everything that lets you connect with your colleagues.
We all have been in situations where we want to find the contact details of another employee but it's not available. At least not easily! What would mostly happen is that you would ask another colleague or two who could have the contact information of the person you are looking for. This is fine in the beginning, but if you have to keep doing it, the chances are your colleagues would lose the will to send the information back to you soon. Because let's face it, your colleagues have so much on their plates too that they can't be sharing contact information up and down.
That's where Corporate Directories come in handy. Simply, all you have to do is log in to the company HR system and search for the person's name and you will have all their contact information in a matter of few clicks.
The OrangeHRM Corporate Directory lets you do just that. And now, it lets you do that and so much more as well. In addition to letting your employees view the phone number and the email of other employees, you call also add links to their social media profiles such as LinkedIn, Twitter & Facebook so that your employees can collaborate with each other on meaningful discussions outside of work, improve employee engagement within the company, build strong workplace culture, initiate meaningful relationships and so on.
Making life even easier, you also get a QR code that can be scanned to save your colleagues' emails and phone numbers on your mobile device along with their names instantly. In addition to that, the Directory is also available in the OrangeHRM mobile application so you have access to the contact information you need whenever you are on the go.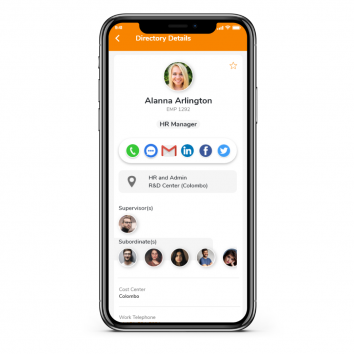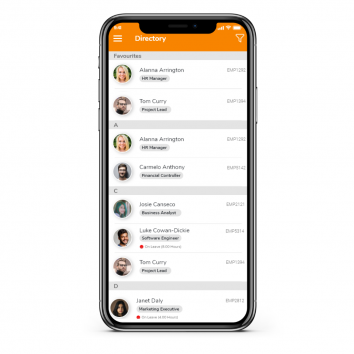 If you think it stops there, it doesn't. With the OrangeHRM Corporate Directory, you can also view if an employee is on leave before you try to contact them. This way you can develop your workplace culture to allow employees on leave to have their space to do what's important in their personal lives or let them take their minds off work while they are on vacation and come back stronger. After all, work-life balance is key to sustaining the performance of your employees and having higher chances of retaining them for longer. Worst comes to worst, there can be instances that you really want to speak to someone on leave. But even then, you have the option to view the immediate supervisor of the specific employee so you can speak to the supervisor instead and check if you can get what you need, without reaching out to the employee.
Learn more about this feature and all other products offered by OrangeHRM for efficient HR management by signing up for a FREE demo here.