The process of integrating new hires into a company and assisting them in becoming effective team members is known as onboarding. It entails exposing them to the company's culture, beliefs, policies, practices, and goals as well as equipping them with the training and assistance they need to carry out their job responsibilities successfully. The purpose of onboarding is to assist new hires in settling into their new surroundings, developing relationships with their coworkers, and comprehending the requirements of their roles within the company. An efficient onboarding process can increase productivity, job satisfaction, and retention rates while lowering turnover and the expenses of hiring and training new employees.
Why an Effective Onboarding Process is Vital to an Organization?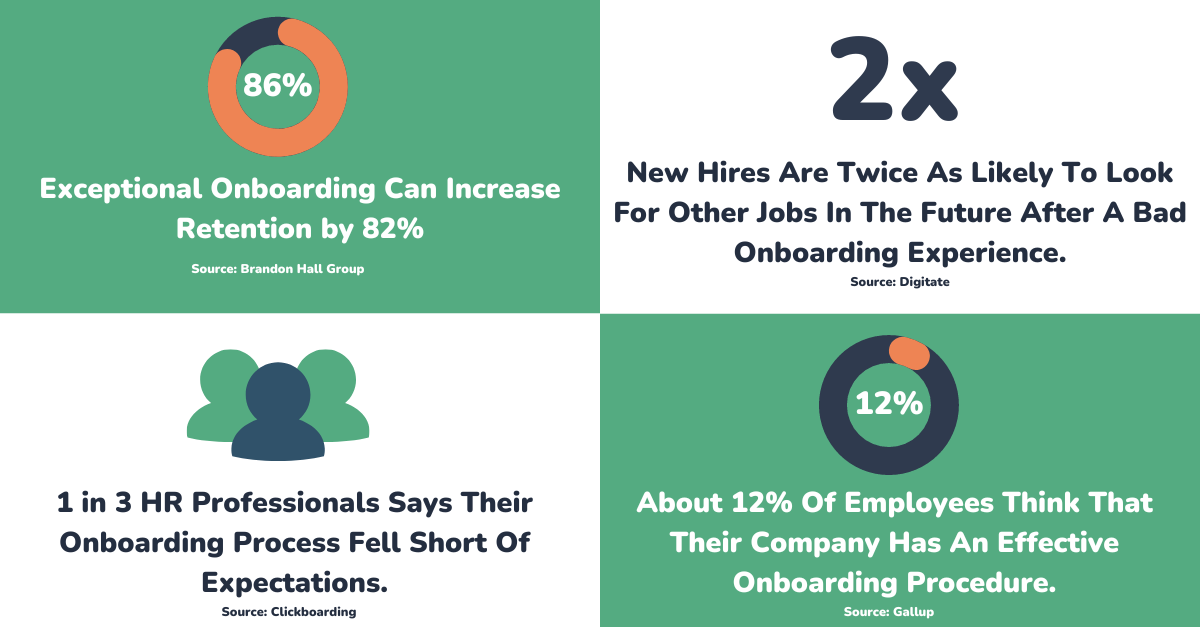 More job satisfaction and a sense of belonging are brought about by onboarding, which also increases employee retention. Onboarding also enables new hires to comprehend the organizational structure and their place within it. As a result, turnover is decreased and staff retention rates are raised.
A successful onboarding procedure equips new hires with the knowledge and tools they need to successfully carry out their obligations. Both the person and the company gain from the enhanced productivity and accelerated time to competency that results from this.
Increased employee engagement
New hires are given assistance during onboarding to feel invested in the company and their work. More job commitment, drive, and a sense of pride in their work may result from this.
A pleasant onboarding experience can contribute to new workers' positive perceptions of the company and can also result in positive word-of-mouth recommendations, which can improve the company's employer branding.
By increasing employee retention rates and decreasing the need to regularly hire new employees to replace those who leave the company, effective onboarding can help cut recruitment and training costs.
3 Key Onboarding Processes That Any Organization Can Follow
Before the new employee starts their first day of work, this phase entails educating them about the organization and their position. The company's culture, beliefs, and mission can be explained to them through a video or online orientation, an employee handbook, a welcome email, and other channels. By supplying this information in advance, employers may help new hires feel more ready for and secure in their new roles.
Structured Onboarding Plan
New hires that follow a structured onboarding process have a clear grasp of their roles within the organization and what is expected of them. This may involve making a list of things to accomplish, like job shadowing, training, and goal-setting. Regular check-ins with the new employee's manager or mentor should also be part of the plan in order to provide feedback and address any questions they may have.
Team Building and Socialization
Feeling welcomed and at ease at a new job requires developing relationships with co-workers. Businesses can help with this by incorporating social events and team-building activities into the onboarding process. Events like team lunches, after-work gatherings, or volunteer activities can fall under this category. The company may help new employees feel like a member of the team and integrate more successfully into the company culture by providing them with opportunities to interact with their coworkers.
Investing in an Effective Onboarding Process for Long-Term Success
In conclusion, an effective onboarding process is a critical part of any organization's overall strategy for attracting, engaging, and retaining top talent. A well-designed onboarding program can help new employees feel welcome, prepared, and connected to the organization, leading to higher retention rates, increased productivity, and greater overall job satisfaction. By providing new employees with a clear roadmap for success, tailored training and development opportunities, and a supportive network of colleagues and mentors, organizations can set their new employees up for success and maximize their long-term contribution to the organization.
On the other hand, not having a proper onboarding process can lead to negative consequences, such as decreased retention rates, lower productivity, reduced engagement, and increased costs. Therefore, it is crucial for organizations to invest in an effective onboarding process to ensure that new employees feel valued, supported, and empowered to succeed in their new roles.